Friends of Alton Station
Campaign Page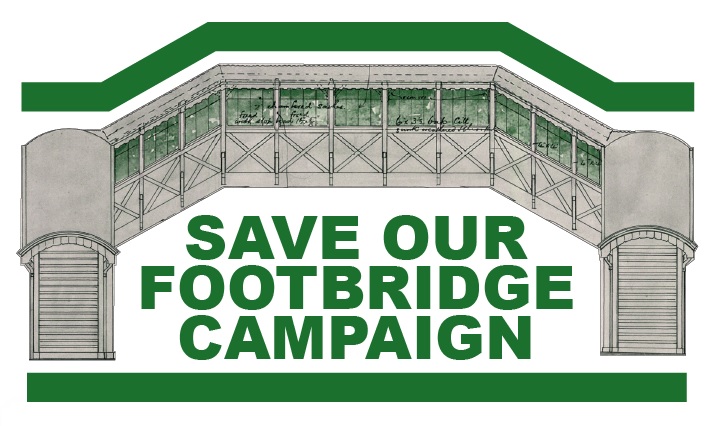 If you would like to help us in our campaign to save Alton station's historic footbridge, here are the things you can do to help:
TAKING ACTION
Donate via our Just Giving crowdfunding-page:
www.justgiving.com/crowdfunding/alton-station-footbridge-campaign
'Like' our Facebook Page
Join &/or volunteer your help to Friends of Alton Station
NEWS
At the time of writing (May 2019), the removal of the footbridge has recently been moved to March 2020. This new date not only gives us more time to prepare and fund-raise, but it marks a positive change of attitude from Network Rail. That isn't to say that things are going to be plain sailing, but it would appear that things are moving in our favour. Many thanks to those of you who wrote to our MP, Damien Hinds, and also Andrew Haines, Chief Executive Network Rail. Everyone's campaigning has made a real difference to the negotiations and we are now on course for making a success of our project to save the footbridge.
As things progress, it is likely that we will need to step-up our campaign for donations, although at this stage the costs for removal have yet to be quantified. Many people have already made donations to us through our Just Giving page, so thanks to all of you. If you have yet to help our cause, please consider making a donation (the link is above).
THE FACTS
In the autumn of 2018, Friends of Alton Station were invited by Network Rail to provide our own version of how we think the bridge could be removed. This we did, both using our volunteers and more recently, by involving a professional engineering company (Andun) to provide the detailed data. We recently met representatives of Network Rail and there will now be ongoing work to set down the costs, agree our contribution and all the other details required for saving the bridge.
Some members of the public have questioned why the bridge needs to be removed at all. We soon established that making repairs over a working railway is very very expensive, requiring trains to cease whilst work is undertaken and the contractors have to be Network Rail approved. It is therefore desirable to remove the bridge, so the argument has been to do so in a way that safeguards the structure for future restoration.
The main question for us, apart from getting the removal process agreed, is funding. At first we were not very successful at getting donations from the public, but the online Just Giving campaign has been a great success. These donations, along with grants from our District Council, have allowed us to commission two engineering companies to produce reports for us. Given the scale of funding required for the removal and restoration, we soon realised that we would need to get the lion's share of our money from grants, such as the Heritage Lottery Fund and the Railway Heritage Trust. And in order to do this, we need detailed costings, plans and a realistic timetable.
In 2016 we commissioned an engineering company (Integrated Engineering Design) to look at the structure, with the main purpose of quantifying the work required for restoration. This would then be part of what we would supply to potential funding bodies with applications. Up until recently, we have felt like our campaign was being resisted by Network Rail, and it made the project seem somewhat overwhelming. Now that we are getting positive noises from Network Rail, along with more clarity, it is now a good time to put together some grant applications to enable the restoration to be done once the bridge is lifted out.
Taking a step back, our careful removal option was not in Network Rail's budget. In July 2017 we presented Network Rail with our first plan for removal using a fabricated steel "cat's cradle" support and a rail-mounted crane to lift it out. We were hoping to lift the centre section to one side for restoration. All the work over the working railway has to be done by Network Rail-approved contractors and they quoted £130,000 for this work as an 'extra over' cost. We established that this sum includes an extra day of closure of the line in case of an overrun.
The two locations we had considered for locating the removed section near the station turned out to be unrealistic and, when coupled with the £130k pricetag, we realised that we needed a rethink. We therefore proposed to do without the steel cradle and the rail-mounted crane, and to dismantle the bridge in the car park so that we could store the bridge parts off-site. We told Network Rail about this idea in April 2018, but it took until the autumn for this to register and be taken seriously as an option. We have since supplied plans and engineering calculations for this option, and it is now being followed up by Network Rail.
We have been extremely patient over the five years since we first started negotiations with Network Rail, but it has been hard work getting support for our project. The campaigning has led to Network Rail having a change of heart, so one can only hope that this will lead to a successful outcome.