Friends of Alton Station
Campaign Page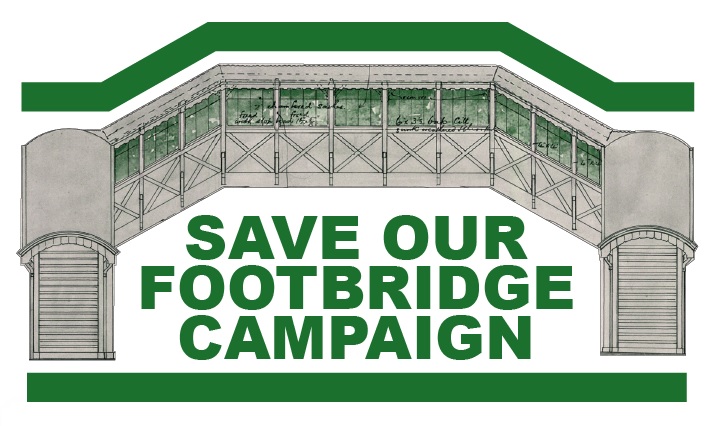 If you would like to help us in our campaign to save Alton station's historic footbridge, here are the things you can do to help:
TAKING ACTION
Write to Network Rail and the local MP, Damian Hinds. We have devised more information to help you on our Letter Templates page.
Donate via our Just Giving crowdfunding-page:
www.justgiving.com/crowdfunding/alton-station-footbridge-campaign
'Like' our Facebook Page
Join &/or volunteer your help to Friends of Alton Station
THE FACTS
At the time of writing (end of December 2018), the bridge is going to be removed in March 2019. Network Rail say it is going to be demolished; we say it is going to be carefully removed. Although removal sounds like a bad thing, it is a necessary step so that Friends of Alton Station can make repairs off-site in preparation for replacing it back in situ. The problem for us is that Network Rail are not prepared to put money into helping us dismantle the footbridge in a way that will make it suitable for restoration.
The campaign at present is focused on getting our careful removal plans accepted by Network Rail. We have submitted our version of what we think can be done to reduce the damage as it is removed and we await a response. We need people to write in support of what we are trying to do and, where possible, donate funds to help with the restoration.
Taking a step back, our careful removal option is not in Network Rail's budget. In July 2017 we presented Network Rail with our first plan for removal using a fabricated steel "cat's cradle" support and a rail-mounted crane to lift it out. We were hoping to lift the centre section to one side for restoration. All the work over the working railway has to be done by Network Rail-approved contractors and they quoted £130,000 for this work as an 'extra over' cost. We have recently established that this sum includes an extra day of closure of the line in case there were a time overrun.
The two locations we had considered for locating the removed section near the station turned out to be unrealistic and, when coupled with the £130k pricetag, we realised that we needed a rethink. We therefore proposed to do without the steel cradle and the rail-mounted crane, and to dismantle the bridge in the car park so that we could store the bridge parts off-site. We told Network Rail about this idea in April 2018, but it is apparent that they ignored us and only now are they considering our ideas. We don't believe that our proposal will cost any extra to do, but after two recent meetings with Network Rail representatives, it has been made clear that FAS has got to commission and fund the engineering data to prove our case. This is likely to cost in the region of £12k.
We feel that we are being short-changed. Network Rail are reneging on their earlier promises (many never put in writing), including the most important of all - that we could put the bridge back once it has been restored. We have been extremely patient over the five years since we first started negotiations with Network Rail, but now it is clear that they are planning for us to fail. In turn, we have no option but to respond by putting pressure on them through the media and from the general public. We had hoped that we could avoid a public battle with them, but that's the only option left open to us.
We are determined to push past this latest obstacle and we need you to help us. If you can, please donate money and/or write to your MP and the Chief Executive of Network Rail, Andrew Haines (see our Letter Templates page for information).